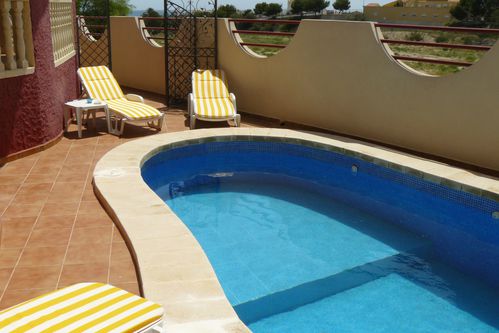 LONG TIME RENT DURING THE WINTER : consult us...
COSTA CALIDA
In the Murcia province, on Mazzarón Bay (35 km from Carthagena, 80 km from Murcia, 180 km from Almeria)
Mazzarón enjoys an exceptional number of sunny days throughout the year.
Description
ADVERT PUBLISHED ON HOMELIDAYS

Villa for 5/6 persons, with private swimming pool, in a very quiet residential area in Bolnuevo, 500 m from the sea, 5 km from Puerto de Mazzarón.
Villa of 90 m2, living room 23 m2, 3 bedrooms, 1 bathroom, 1 shower and a fully equipped kitchen.
Secured home with automatic gate and space to park one or two vehicles. The grounds are fully enclosed and paved..
Small covered terrace in front of living room.
Large terrace of 80 m2 with grill and
garden furniture.
18 m2 swimming pool, secured by
locking gate.
1 bedroom with a double bed, shower
and dressing room.
1 child bedroom with 1 single bed
and 1 captain bed, plus numerous closets.
1 bedroom with 2 single beds.
Baby cot available upon request.
Kitchen: induction stove top, dishwasher, refrigerator and
freezer, traditional oven, microwave oven, iced
water dispenser.
Washing machine in the basement.
TV. Internet.
Nearby
300 m: café and bakery, pharmacy
500 m: minimarket and shops, Bolnuevo beach
1 km: Bolnuevo's famous eroded rocks
Between Bolnuevo and Puerto de Mazarrón, many other beaches, including the beautiful Playa Bahia, 1 km away : beach wich have "Blue flag"quality.
Leaving Bolnuevo, an unimproved road leads to many coves, several of which are nudist beaches.
At 5 km, Puerto de Mazarrón:
Tourist Office, marina, El Paseo (sea promenade)
Supermarkets, covered food market, plus one large market on Sunday morning.
Numerous bars and restaurants.
Activities
Diving, boat trips with possibility of watching dolphins, water sports, tennis, golf.
Many opportunities for hiking (preferably in the off-season because of the summer heat).
We loved
Feasting on breakfast at la Churreria (favored by the locals, open from 6 am to 1:30 pm).
Shopping at the El Sotano ceramics store (Puerto de Mazarrón, C/Progreso 55 (steps away from the Paseo).
Buying hams, chorizos, and the locally made cheese of Totana, 20 km away. Sold at the farm at advantageous prices.
Admiring the roof of the Iglesia Convento de la Purisima in Mazarrón.
How to get there
We recommend flying to Alicante (from Paris with vueling.com) and renting a car at the airport . The trip to Mazarrón by car takes 1h30.
We recommend flying to Malaga and renting a car at the airport (airfares to Malaga and car rental rates are often very reasonable). The trip to Mazarrón by car takes 3,5 hours.
We advise against flying to Madrid: the fares are higher, the airport is too big and the distance to Mazarrón much greater.
Rates per week (Rental from Saturday to Saturday)
Possibility to rent for several weeks or months : ask for the price, very interesting!
12/04/14 to 24/05/14 : 300€ per week / 500€ 2 weeks
24/05/14 to 28/06/14 : 450€ per week / 850€ 2 weeks
28/06/2014 to 12/07/2014: 850€ /week
2/07/2014 to 30/08/2014 : 980€ /week
30/08/2014 to 13/09/2014 : 500€ per week / 900€ 2 weeks
13/09/2014 to 01/11/2014 : not available
dogs are welcome (40€/week , 60€ /2 weeks)
WIFI 10€/week
For information about availability, reservations or for any other question, please contact Brigitte at (0033) 6 26 65 65 26 brigitteaillet@yahoo.fr
(0034) 664 75 99 97